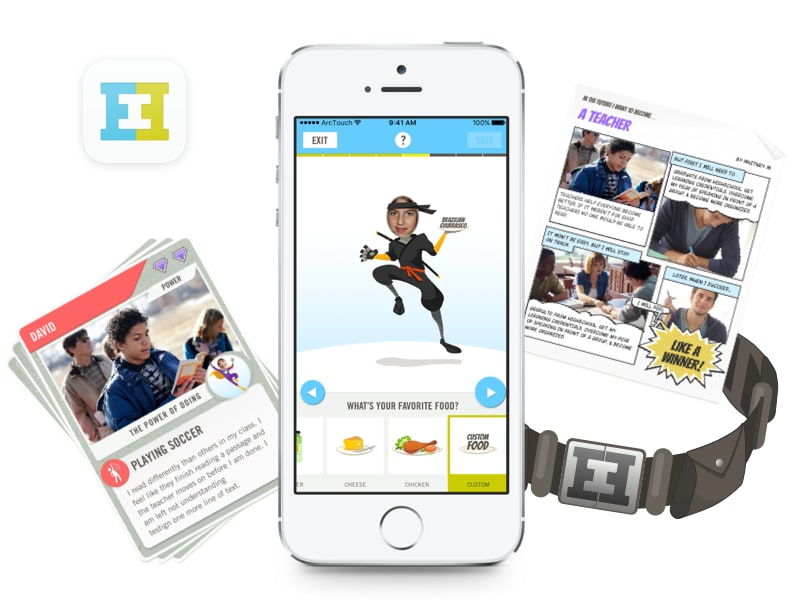 Skills
UX Design
Visual Design
Prototyping
iOS
Link
At ArcTouch, I was fortunate enough to work on a pro-bono project for a great cause. This educational app helps students who learn differently (think ADHD or Dyslexia) by teaching them more about themselves, how being different is okay, and in the end gives them a powerful document they are able to share with their teachers to get help in the classroom.
STRATEGY
The challenge with the Eye to Eye project was to transform 18 weeks of in-person community driven art projects into an app for anyone who may have limited resources to get a similar experience at home. A large challenge was, since this app is intended for students, possibly under 13, we chose to bypass COPPA rules by stripping out any sharing functionality, and keeping all the user's data stored locally instead of up in the cloud for the first version of the app. Another expectation was that this app would be able to grow as they adjust and want to add more curriculum. This limited the designs away from a whimsical Mario map concept to more of a carousel system I set up a system that allows for new 'quests' to be added easily. Each quest then adds a page to the exported PDF.
DESIGN
Eye to Eye had nice documentation of their brand guidelines that we followed to create the interfaces. Originally we used some more colors in the backgrounds and character costumes, but adjusted once we were told to keep the color palette to the primary blue and greens as much as possible. I managed the illustration work that was done by my talented co-worker, Eduardo Tanaka, while I focused my attention on the UI. Eye to Eye had a great video team that executed on our visions to bring the quests to life.
For more information check out this post I wrote about my experience https://arctouch.com/2016/12/making-an-app-adhd-ld-mobile-ux/
---
Skills
UX Design
Visual Design
Prototyping
iOS
Link
More Projects