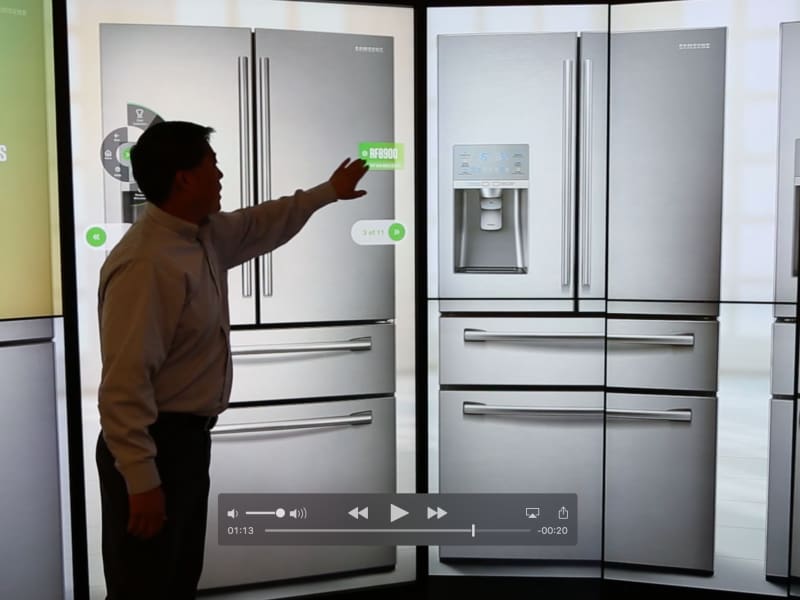 Skills
Product Design
Prototyping
Product Management
Product Development
Company
Link
Home appliance shopping is difficult everyone. Manufacturers like Samsung can only get limited space on the showroom floor. Retailers have to deal with large, heavy metal boxes that always get banged up. And, consumers get overloaded with difficult-to-understand POP (point of purchase) advertising. "CenterStage" was developed to utilize a 84" UHD display and life-sized content to showcase all of our home appliance products on the display.
I led the "CenterStage" project with a core task force of 5 Samsung team members, but there were many, many involved groups. We partnered with Cheil (Samsung's advertising company) and developed a first prototype within a few months that amazed everyone. We subsequently hired The Barbarian Group out of NYC. Ultimately, Andrew Bell (inventor of the Cinder programming language) brought together one of the best prototypes I have ever been associated with. We used stunning motion graphics from Method Studios to deliver a totally awesome experience that debuted at our (soon-to-be) 837 Washington office in Manhattan.
I continued to manage our initial pilot deployments with 6 BestBuy locations across the US. It was a very successful project and, although the UI has been subsequently re-designed (unfortunately), it is now in over 300 BestBuy stores across the US.
---
Skills
Product Design
Prototyping
Product Management
Product Development
Company
Link
More Projects