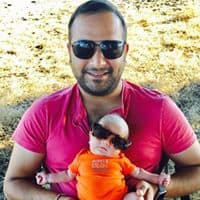 Kunal Contractor Hiring
Sales ·
Started your sales career? I'd like to hear from you if you'd be interested in joining one of the top Conversational AI companies in the Bay Area. We regularly take on IBM, Google, Microsoft - and win.
Avaamo is a deep-learning software company that specializes in conversational interfaces to solve specific, high impact problems in the enterprise. We're building fundamental AI technology across a broad area of neural networks, speech synthesis, and deep learning to make conversational computing for the enterprise a reality. Check out www.avaamo.com to learn more. We're run by a bunch of tech veterans, not a bunch of 20-something year olds still trying to build a product and raising VC money. We're fully enterprise ready and growing.
I'm looking for a junior to mid-level sales person, about 3 – 6 years experience in B2B SaaS sales to join the fast growing team. If you don't have that, and think you're worth it, still let me know.
Although our HQ is in Los Altos, you're not expected to be the office everyday, and you can commute to the office after the morning rush hour and back before the evening one, like I do. You are required to be in the SF Bay Area, though.
We have 50+ enterprise customers, most in the Global 500, and many more in the pipeline.
You'll be following up on the hot inbound leads that come to us direct or through partners, running demos, working closely with our marketing team to create campaigns, and also being trained to become a thought leader and expert in conversational AI. No previous AI experience required. You just need to be hungry, understand startup culture, and you get to travel when needed, too.
Please email me your resume and why you think you'd be a great asset to our team to kunal@avaamo.com.
Link
avaamo.com
---
Sales
Skills
Sales
Account Management
SaaS
Enterprise
Artificial Intelligence
Campaign Management
Startup
Deep Learning
Company
Avaamo, a secure business messaging app for the workplace
Follow 2 Followers