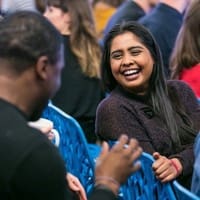 Michelle Pal Hiring
Recruiter ·MyFitnessPal ·
The MyFitnessPal engineering team is looking for an experienced search solutions engineer. Data is the lifeblood of our applications, and our ability to operate is highly dependent on great search architecture and design, fast runtime I/O, and robust data capabilities. Our engineering teams leverage a variety of data technologies - both proprietary and open-source. It'll be your responsibility to help evaluate and provide advice on a smart go-forward strategy for technology selection, design and implementation.
What you'll be doing:
You will work with our engineering and product teams in support of MyFitnessPal to solve critical user problems using a wide variety of technologies.
You will assess and work towards deliberate and sustainable technology and architecture solutions.
You will be comfortable with distributed I/O patterns, search performance tuning including data-design, indexing, evaluation and improvement.
MyFitnessPal never stops evolving and your role in our ability to safely and quickly service the business is critical.
*Qualifications to be successful in this role: *
Substantial Elasticsearch development and administration experience.
Observed and identified pain points, priorities, requirements, and success criteria.
Resolved non-trivial search issues involving APIs, Elasticsearch and related technologies
Identified opportunities to help with additional search solutions
Experience in performance tuning, query analysis, defining success criteria and metrics, designing ranking and relevance experiments and optimizing Elasticsearch
Knowledge of high availability and disaster recovery options for Elasticsearch
What can really set you apart:
Participate in the open source community providing fixes and improvements when possible
Interest in and/or experience working with MongoDB, MySQL and other data stores a plus
Please consider applying even if you don't meet 100% of the qualifications. Research shows you can still be considered for a position if you meet some of the requirements. At MyFitnessPal, we're building a fitness product for everyone and believe our team should reflect that. We encourage people of different backgrounds, experiences, abilities and perspectives to apply.
MyFitnessPal participates in E-Verify.
Link
boards.greenhouse.io/myfitnesspal/jobs/2560416
---
Engineer
Skills
Company
Free online calorie counter and diet plan. Lose weight by tracking your caloric intake quickly and easily. Find nutrition facts for over 2,000,000 foods.
Follow 0 Followers