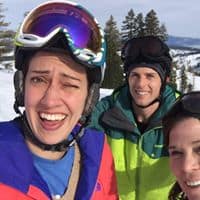 Alice Barton Available
Designer ·Care.com ·
Job description Care.com is the largest and fastest-growing technology platform for online care services, helping families, businesses, and corporate employees find high-quality care for their kids, pets, parents, and homes. We're seeking innovative, entrepreneurial, and genuinely nice people to join our collaborative team. If that describes you, we want to hear from you! A career at Care.com offers countless ways to grow and have a real effect on a young, exciting company.
Overview Are you ready to create user experiences that matter and make people's lives better? Care.com is looking for a top-notch senior product designer to join our agile team to strategize and create outstanding user experience for our clients. The ideal person will be passionate about user experience and visual design, (with an ability to artfully realize UX designs on our desktop, mobile web, iOS and Android applications.) If you are up for the challenge, get in touch!
Specific Duties/Responsibilities It's all about new products and user experience! Strategize, collaborate and contribute to all aspects of the product mobile and web design from paper prototyping and initial concepts, to prototypes, wire-frames, and pixel perfect Photoshop comps. Collaborate with cross-functional teams including creative directors, designers, copywriters, product managers, developers, and marketing. Ensure designs move gracefully between platforms, adjusting solutions as needed from platform to platform, understanding and working within constraints. Manage work to strategy, scope and deadlines in fast-paced environment, against shifting priorities. Present and communicate proposed solutions clearly and confidently.
Required Skills 7 plus years** (PLEASE NOTE THIS IS VERY FLEXIBLE IF YOU HAVE FEWER YEARS OF GREAT EXPERIENCE) **of hands-on experience designing for web, mobile web and smartphone applications A strong presenter to the C-Suite and peers Ability to mentor junior team members Must include an online portfolio of consumer facing products Expert level mastery of Sketch and Adobe Creative Suite, including Photoshop, InDesign, Illustrator, After Effects Strong understanding of modern web and mobile best practices Ability to concept and rapidly execute compelling visual designs and hi-fidelity mock-ups with strong attention to pixel-level detail Experience working across multiple platforms preferred (Android, iOS, mobile web, desktop) to deliver consistent experiences across multiple touch points Experience working in an agile environment preferred Knowledge of and experience with responsive design is a plus Knowledge of Objective C, HTML/HTML5 and/or CSS/CSS3 are also pluses
Education/Other Pre-requisites BA or higher in design or related field
Link
linkedin.com/jobs/view/590895538/
---