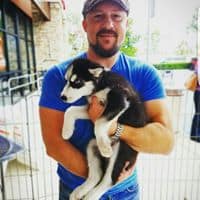 Evan Mignogna Hiring
Recruiter ·May Mobility, Inc. ·
Company Overview
May Mobility is a self-driving technology company working to transform today's mobility landscape, with by starting with a niche market: low-speed shuttles for public roadways. Our vehicles are on the streets of Detroit, Michigan and Columbus, Ohio navigating complex downtown scenarios and transporting thousands of people on their daily commute every week. We are establishing a ground game that will propel us into even larger markets in the future.
Based in Ann Arbor, Michigan, our team develops driverless technology to give people more time to laugh with friends, to solve an interesting problem, or to enjoy the world around them. We're hiring people who share our passion for building the future, today.
Job Summary
May Mobility is entering into an exciting phase of growth as we expand our first-of-its-kind autonomous shuttle and mobility services across the nation. We are looking for a Quality Engineering Manager to oversee the software and hardware quality teams, ensuring reliable, safe operation of May Mobility vehicles throughout design, testing, and real-world deployments. This role will report directly to the CTO and will be responsible for overseeing the Quality Assurance (QA) team and all QA activities.
Job Responsibilities
Manage hardware, software, and driver testing teams, including people management and project management
Collaborate with hardware development, software development, and production engineering to develop and execute overall testing strategy
Define metrics and track progress towards product acceptance criteria
Manage real-world vehicle testing programs and processes; contribute to developing guidelines for vehicle deployments
Prioritize effective resource allocation across all quality team functions
Manage data collection and testing software projects
Use automated, functional, dogfood, performance, stress, regression, white-box, black-box, and soak testing methodologies
Communicate within engineering and with the broader company about quality progress and goals
Required Qualifications:
BS Degree in Mechanical Engineering, Electrical Engineering, Industrial Engineering, or related engineering field
3+ years of experience in a quality role, including management and hands-on experience testing complex safety-critical systems involving hardware and software, ideally in an automotive (active safety) or aerospace context
Prior people management experience and leadership skills
Impeccable technical communication skills
Demonstrated project management experience
Experience building and continually improving the QA organization's role in both R&D and production environments
Understanding of software and hardware development processes
Experience with problem solving methodologies such as Six Sigma, 8D
Desirable Qualifications:
MS Degree in Mechanical Engineering, Electrical Engineering, Industrial Engineering, or related field
5+ years of experience in a quality role
Experience working with automotive suppliers
Demonstrated experience scaling QA teams
Experience working within an "Agile" software development process
Experience applying ISO26262 and ISO9000 standards
Professional Engineer License
Experience working with Linux
American Society of Quality certified Quality Engineer
Six Sigma Training
Benefits and Perks
Paid health benefits including vision and dental
Generous paid vacation days and holidays
Meaningful stock options
Daily catered lunches and snacks
Link
maymobility.applytojob.com/apply/qHU06rv0Yg/Quality-Engineering-Manager
---
Management
Full Time
Relocation Offered
Skills
Software engineer-Quality
Hardware Engineering
Quality Assurance
Systems Engineering
Testing
Engineering
Manager
QA
Six Sigma
Management
Company