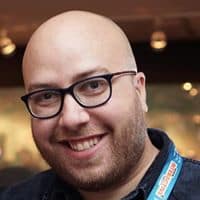 Adam Leidhecker Available
Marketing ·
DESCRIPTION
Coplex is a nationally-ranked Startup Accelerator that works with industry experts to start successful tech companies.
In our structured 9-month program, we help take industry expert founding teams from idea to seed-ready. The program is built on a proven lean startup process and provides support with product development, go-to-market, private events, mentorship, immersive education, fundraising, and much more.
We are looking for a passionate designer to join our team at our Phoenix location.
WHO ARE WE LOOKING FOR?
We crave someone who enjoys co-creating new digital products while collaborating with clients to provide meaningful work. You will be a fantastic fit if you take pride in your work, but are always open to input and suggestions. If you enjoy taking ownership of your tasks and get excited to be stretched out of your comfort zone, this role could be calling your name. We'd love for you to continuously strive to grow in your role and challenge your various skill sets. We love seeing our team members thrive!
Another perk for us is someone who loves to stay up-to-date in the design, product, and UX world. Oh, and of course, gets a kick out of designing damn beautiful applications.
If you geek out about lean experimentation and data as it relates to design, then you sound like our kind of person.
THE HARD FACTS
Experience: 4+ years UX, UI, and branding experience Location: Phoenix, AZ Timeframe: ASAP
REQUIREMENTS: KEY RESPONSIBILITIES
Develop lean branding for our ventures including logo design, typography, color palettes, and social branding

Lead UX design for our ventures while continuously collaborating with program managers, developers, and founding team

Work on a wide variety of venture industries including fashion, entertainment, healthcare, and more

Work closely with program management and development teams to assist in developing assumptions, workflows, and experiments

Develop user flows, wireframes, high-fidelity mockups, interaction specifications, and prototypes to effectively and persuasively communicate behaviors and design ideas

Work with content writers to create investor decks for our ventures

Build out lean website solutions for our ventures utilizing tools such as Squarespace

Support your design work using all available insights including knowledge of standard methodologies, user feedback, quantitative data, and market research

Dedicatedly lead your own work queue, time, and expectations

Stay on top of time-sensitive matters and communication needs

Lead ambiguity, work independently and collaboratively within a team, design in a fast-paced agile environment, and switch rapidly between different products

Lead our team in collaborative design exercises to bring designers and non-designers together in co-creation
YOUR SKILLS
Expert in modern UX and UI practices for responsive web and iOS
Expert in Sketch, Adobe CC Photoshop & Illustrator
Strong design portfolio with focus on iOS and responsive web design that showcases your process from concept to product
Understanding of, and active practice of lean UX and design thinking principles
Ability to creatively brainstorm and contribute solutions to customer or product team
Experience with scrum/agile methodologies
Excellent oral and written communication skills to effectively interact with customers and other team members
Googler of things you don't know but can probably figure out
Ability to prioritize efforts and communicate the "why" of prioritization
SOME OF THE TOOLS WE USE
Sketch
Zeplin.io
Adobe CC Photoshop & Illustrator
InvisionApp
Teamwork
Google Apps
Squarespace
Slack
BENEFITS
We welcome friendly dogs to hang out with us.
Every week, we provide healthy meals at our team lunch, "Coplex Clean Eats."
Free coffee, snacks, and beer in the office. Yes, really.
High-energy, collaborative space at Galvanize Phoenix with other member benefits like free events and mentorship.
Unlimited PTO (2-week minimum)
(Optional) work remotely on Tuesdays and Thursdays
(Optional) work in other Coplex office locations (Seattle, LA, Galvanize locations)
Health insurance, dental, and vision coverage
Paid maternity and paternity leave.
Fitbits to promote health and wellness in our Coplex family.
A yearly retreat to reconnect and bond as a team.
Audible accounts to promote learning and education.
Coplex is intentional about embracing diversity and equal opportunity. We are committed to building a team that represents a variety of backgrounds, perspectives, and skills. As an Equal Employment Opportunity and Affirmative Action employer, We do not discriminate based upon race, religion, color, national origin, gender (including pregnancy, childbirth, or related medical conditions), sexual orientation, gender identity, gender expression, age, status as a protected veteran, status as an individual with a disability, or other applicable legally protected characteristics.
If what you just read excites you, let us know. We'd love to chat and see if it's a great fit. Apply to this listing and tell us about your favorite YouTube video.
Link
coplex.workable.com/j/A5D7036D27
---
UX Designer
Skills
UX/UI Design
Design Sprint
Human-centered design
Experimental Design (A/B Testing)
UX Design
Wireframes
Company