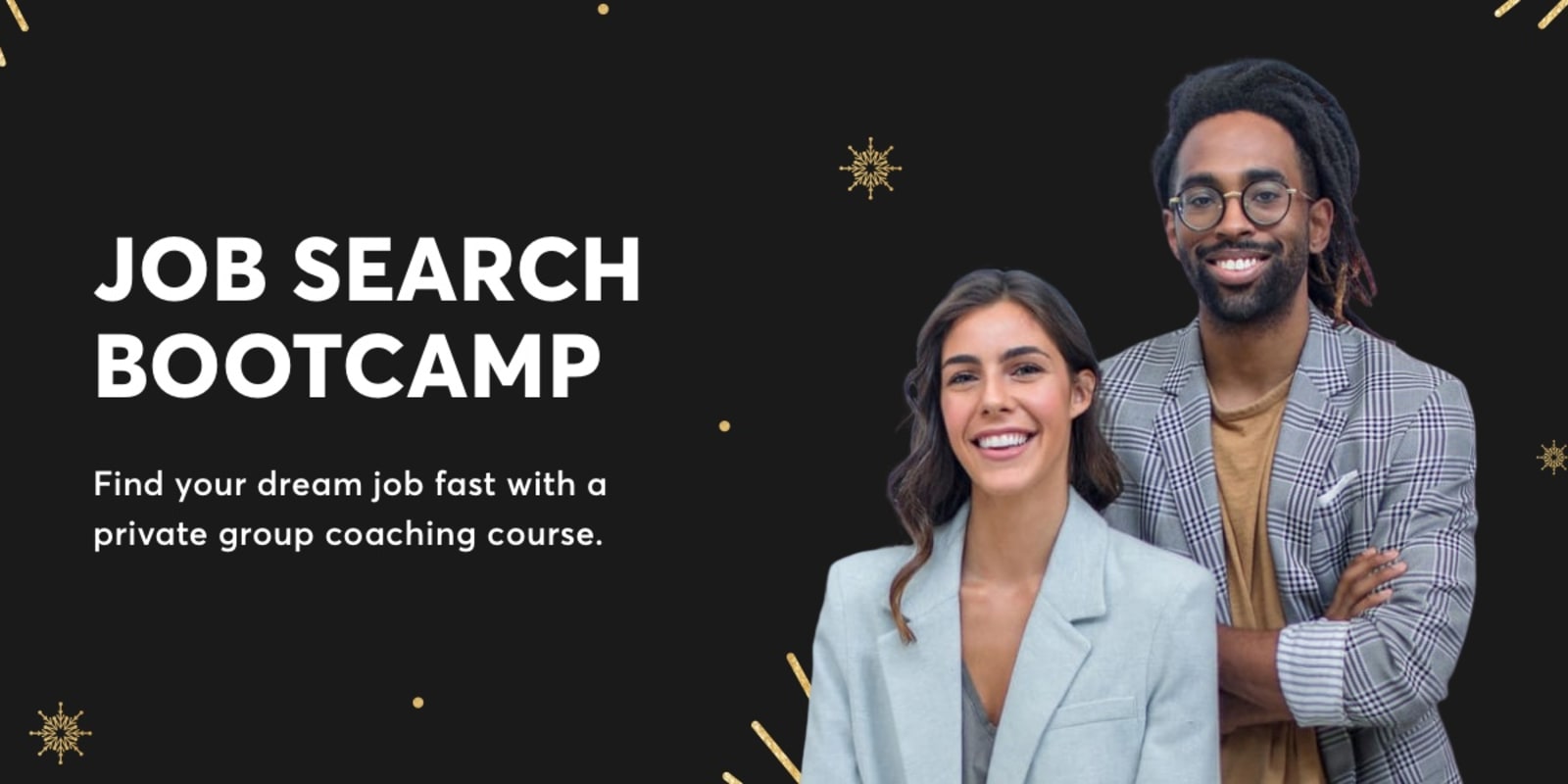 A two-week online course that gives you the tools you need to kick your job search into high gear.
Wouldn't it be nice to get momentum in your job search and check off those tasks you've been putting off? Like updating your resume? Dusting off the LinkedIn profile you haven't updated since starting your last job? Finally setting up those networking coffee chats you've been thinking about but not acting on?
There's a reason you haven't gotten the results you want on your own. This work is hard. It requires tons of self-motivation, insight into your own strengths and weaknesses, and the ability to weather a lot of ups and downs.
But that's why we created this Job Search Bootcamp. It's a group coaching program designed to help people kick start or reinvigorate their job search and give you the structure, tools and motivation you need to tackle what's keeping you stuck. Every week you'll have two interactive Zoom meetings with your coach and a group of fellow job seekers to build your skills in each step of the job search process.
In between meetings, you'll complete job search specific assignments to ensure you're making progress toward your goals and you'll get additional support through our virtual discussion group, where you can interact with your peers, get questions answered, and gain access to additional resources.
Your dream job should be filled with magic, but your job search shouldn't be filled with mystery. You know a fulfilling career is waiting for you, and we want to help you find it.
Who This Is For:
This program is suitable for all those looking to grow their career – regardless of level, roles, and industries. So if you:
Are excited to work with a group of like-minded peers to support each other during your job search;
Are eager to learn new strategies and techniques to take your job search to the next level;
Have the time to attend all group meetings, and complete exercises and assignments,
Then this Bootcamp is for you.
What You'll Leave With:
By the end of the program you will have:
Clarity on your biggest career priorities, so you can focus on the opportunities that are right for you
Increased confidence in your top strengths and how to tell your unique career story
A clear roadmap outlining the key elements of the job search process along with tools, templates, and best practices to help you take action
A compelling LinkedIn profile, resume, and cover letter, customized to you, that will help you stand out and get hired
Goals and a plan for your search, to help you structure your time and work smarter not harder
Proven tactics to help you succeed in interviews and negotiations
Course Details:
Full participation in all four sessions is required and space is limited to eight students per group. You'll also have the option to subscribe to 1:1 coaching sessions with one of our highly skilled career coaches if you'd like continued support after we wrap up.
Topics We'll Cover Include:
Session 1: Self-Assessment & Building Your Brand
Your dream job may not even be in your current industry. We help you identify new potential industries and roles based on your current interests and passions, and create a powerful brand statement that interviewers and scouts will remember. Your brand statement is the core of your job search and will be used throughout your job search (LinkedIn, resume, interviews, and networking).
Session 2: Resume & Cover Letters - Do's & Don'ts
Learn how to write an effective resume and cover letter that best reflects your strengths and resonates with employers so you can land interviews. Learn easy-to-implement tips and tricks to avoid some of the common pitfalls when crafting these important documents.
Session 3: Leveraging LinkedIn & Networking
LinkedIn is a great resource to make connections, but it's also a sea of anonymous faces and profiles. How do you stand out? We'll help you highlight your accomplishments and experiences on LinkedIn so that you get noticed, and help you turn your resume into an impactful account of your most significant accomplishments and attributes.
Session 4: Interviewing
Interviews don't have to be stressful experiences where you're reciting a list of accomplishments. They can be rich conversations, either formal or informal, where you're sharing your story strongly and effectively. We'll prepare you to take control of these opportunities, as well as share best practices on how to develop and manage "multiple tracks" of job applications.
Group Start Dates:
Job Search Bootcamp meetings are held virtually via Zoom. The course takes place over four sessions total, held on Mondays and Wednesdays from 8-9pm EST.
The dates will be January 16th, 18th, 23rd & 25th of 2023.
Meet Your Coach: Caroline Rende
Caroline is the Assistant Director of Graduate Career Services at Harvard University. In this role, she supports master's and PhD candidates across 60 disciplines in STEM, the humanities, and social sciences as they explore opportunities both in and beyond academia. Caroline is energized by partnering with clients and students alike and empowering them to be thoughtful and strategic about their career development. Caroline previously served as the Director for Career and Academic Development at Fisher College in Boston and as the Acting Director of Student Services for Harvard's Graduate School of Arts & Sciences.
Beyond her full-time role, Caroline is pursuing her doctorate at Northeastern University in Educational Leadership. She holds a Master of Education degree from Boston University, and a Bachelor's degree from Providence College in Sociology & English. Caroline has been a longtime adjunct professor at Fisher College teaching a career preparation and personal finance course to undergraduates. As an energetic and thoughtful connector and educator, Caroline is so excited to be leveraging her expertise to support the latest cohort members of the Job Search Bootcamp.
Come learn all the valuable information that Caroline has to offer by signing up for this bootcamp!
Testimonials
"My job search was at a standstill and the pandemic was continuing to swirl around me. I was mentally stalled. Enrolling in the Job Search Bootcamp was a great investment in myself. Not only was I surrounded by peers who were in the same situation, our caring coach met us where we were on our journey. I highly recommend the bootcamp!" -- Laurie D.
"This was great jump start to my job search. It was helpful to understand about how recruiters use LinkedIn, gain confidence in interviewing, connect with other job searchers. I am continuing to use what I learned." -- Heather B.
"I found it every helpful and encouraging. I gained confidence in talking about my background and career that I did not have before. It was very engaging and I loved creating the connections that I was able to make." -- Anjlie P.
If you have any questions, please email us at help@hireclub.com
Length
240 Minutes
Via
Video
Type
Group
Suggested Sessions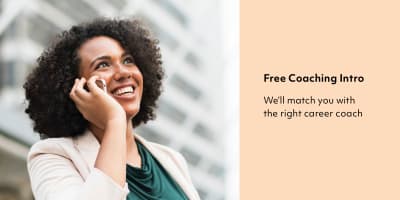 4.9

·

2753 Bookings
Not sure if coaching is for you? Try it out for free by booking a coaching intro call!
Free
4.9 · 10 Reviews